A Landscape Company in Olathe Gives 3 Ideas to Transform Your Outdoor Space–Are you looking to create a stunning outdoor space for your home or business? If so, you should look into hiring a professional landscape company in Olathe. At Diamond Cut & Landscaping, we are passionate about helping our clients bring their dream outdoor space to life.
Landscaping is the perfect way to enhance your outdoor environment, from adding eye-catching plants and flowers to creating stylish and functional hardscapes. With the right landscaping ideas and materials, it's possible to transform even the most mundane backyard into a luxurious oasis.

When done correctly, landscaping can add value to your property and improve its overall appearance. According to experts, "landscape design can significantly affect people's moods, reduce stress levels, and improve well-being". Not only will it make spending time outdoors more enjoyable, but it could also increase the curb appeal of your home or business.
At Diamond Cut & Landscaping we strive to help homeowners create a truly exceptional outdoor environment that's tailored specifically for them. Our commercial landscape company in Olathe believes that "no two landscapes should ever be the same" – each one should reflect both the client's lifestyle and personality as well as fit within their budget. Whether you want something low-maintenance or an elaborate garden paradise – we have the expertise and experience needed to turn your vision into reality!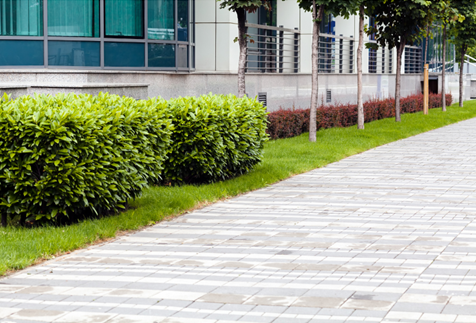 Our process begins with an onsite consultation where we assess your property and discuss what you would like included in the design plans. From there our team will work together with you every step of the way throughout the project delivering results that are both stunning and high-quality while ensuring that all safety standards are met. This includes everything from removing existing landscaping features to installing new features that are designed according to your specifications.
Once the installation is complete our commercial landscape company in Olathe can provide support long-term through regular maintenance visits which helps keep your landscape looking its best year after year! We are proud of all our projects big or small no matter how complex they might be. At Diamond Cut & Landscaping, we specialize in making every yard unique!

We understand that choosing a professional landscape company requires researching many different factors including quality of service, cost, reviews, etc. That's why at Diamond Cut & Landscaping making sure you feel confident about who is working on your project is paramount for us! We strive for 100% satisfaction by providing friendly customer service backed up by experienced professionals who take pride in their workmanship. So, when it comes to transforming your outdoor environment – choose Diamond Cut & Landscaping for unbeatable products and services every time.
Do you need Olathe lawn care services?
 Contact Diamond Cut Lawn & Landscaping today!

All estimates are free – Call (913) 768-6113
Diamond Cut Lawn & Landscape is a family-owned business that has been proudly serving Johnson County and surrounding areas since 1994. We use premium materials to do high-quality work because we want the very best for each of our valued clients.
As one of the top lawn and landscape companies in Olathe, we can design and plant new landscaping, add new hardscaping, install new lighting, and provide erosion and drainage solutions to protect your property and buildings. We're truly all seasons company that specializes in lawn maintenance in Olathe along with snow removal services in Olathe.